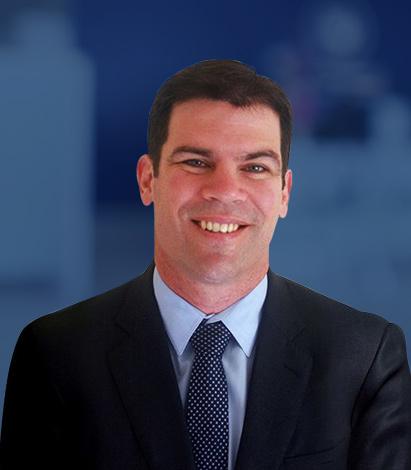 Dr. Mark Shillington BPhty, MBBS, MEng(Biomedical) FRACS(Orth)
Orthopaedic Surgeon
Dr Mark Shillington is a Queensland trained Orthopaedic Surgeon who specialises in the management of knee, shoulder, and hip conditions. He has a special interest in paediatric and adult sports injuries.
Dr Shillington initially completed a physiotherapy degree at The University of Queensland in 2001 and then progressed to attain his medical degree in 2005. In 2009 he was awarded a Masters of Engineering by Queensland University of Technology for research into the biomechanics of orthopaedic implants. He gained his fellowship in orthopaedics from the Royal Australasian College of Surgeons in 2013. Dr Shillington has an appointment as an associate lecturer at The University of Queensland.
Dr Shillington's subspecialty fellowship training was undertaken in the United Kingdom under the supervision of Mr Nick London. During this fellowship he received expert training in adult and paediatric knee and shoulder surgery.
Dr Shillington can be seen publicly at Ipswich General Hospital where he is a visiting medical officer. He can be seen privately at 2 Gray Street, Ipswich, My Life Medical, Brookwater General Practice, Level 1, 2 Tournament Drive, Brookwater.
Dr Shillington is actively involved in orthopaedic research. He regularly presents at peer reviewed conferences and is the author of multiple research papers published in the orthopaedic literature.
"Patellofemoral crepitus in high flexion rotating platform knee arthroplasty"
Authors name: Mark Shillington, Kara Cashman, Greg Farmer
Journal title: ANZ Journal of Surgery. 83(10): 779-783.
Year of publication: 2013
"Birmingham Mi-Head Resection Hip Arthroplasty in a Young Man with Gigantism"
Authors name: Michael Murphy, Mark Shillington, Damon Mogridge, Simon Journeaux.
Journal title: The Journal of Arthroplasty. 27 (2):e13-e15.
Year of publication: 2012
"A biomechanical investigation of vertebral staples for fusionless scoliosis correction"
Authors: Mark Shillington, Robert Labrom, Geoffrey Askin, Clayton Adam
Journal title: Clinical Biomechanics 26:445-451
Year of publication: 2011
"Knee osteoarthritis: use of investigations and non-operative management in the Australian primary care setting".
Authors name: Daniel Bopf, Michael McAuliffe, Mark Shillington, David Drynan, Emma Bucknell.
Journal title: Australasian Medical Journal 2010. 1(3):194-197.
Year of publication: 2010
"Medial humeral condyle fracture with an ipsilateral dislocated radial head. A case report"
Authors name: Mark Shillington, Brett Collins, HPJ Walsh.
Journal title: Annals of the Royal College of Surgeons of England. 91 (On-line case report).
Year of publication: 2009
"A complex knee injury in a rugby league player. Combined rupture of the patellar tendon, anterior cruciate and medial collateral ligaments, with a medial meniscal tear"
Authors name: Mark Shillington, Martin Logan, Mark Watts, Peter Myers.
Journal title: Injury Extra. 39:327-328.
Year of publication: 2008
"Beware the child with back pain"
Authors name: Mark Shillington, Simon Journeaux, Johanna Elliott
Journal title: Journal of Orthopaedics 2007; 4(2)e34
Year of publication: 2007
International Meetings
"A biomechanical investigation of anterior vertebral stapling"
Authors: Mark Shillington, Clayton Adam, Robert Labrom, Geoffrey Askin
Name of meeting: 13th International Conference on Biomedical Engineering (ICBME).
Venue: Singapore
Date: 3-6 December, 2008
"The biomechanical effects of thoracic spine stapling"
Name of meeting: 15th International Meeting on Advanced Spine Techniques (IMAST).
Authors: Mark Shillington, Clayton Adam, Robert Labrom, Geoffrey Askin
Venue: Hong Kong
Date: 8-11 July, 2008
National Meetings
"Patellofemoral crepitus following LCS RPS total knee arthroplasty without patella resurfacing"
Name of meeting: Australian Orthopaedic Association National Meeting
Authors: Mark Shillington, Greg Farmer
Venue: Rotorua, New Zealand
Date: 9-14 October, 2011
"Three-dimensional gait analysis in idiopathic toe-walkers"
Name of meeting: Australian Paediatric Orthopaedic Society (APOS).
Authors: Mark Shillington, HPJ Walsh
Venue: Kingscliff, NSW.
Date: 4-5 October, 2008
"The biomechanical effects of thoracic spine stapling"
Authors: Mark Shillington, Clayton Adam, Robert Labrom, Geoffrey Askin
Name of meeting: Spine Society of Australia.
Venue: Adelaide, South Australia.
Date: 18-20 April, 2008
"Dislocation rate in large head metal-on-metal hip arthroplasty in 248 hips"
Name of meeting: Australasian Resurfacers & Metal-on-Metal Meeting.
Authors: Mark Shillington, Simon Journeaux, DAF Morgan
Venue: Brisbane, Queensland.
Date: 30-31 August, 2008
"Anterior vertebral stapling for the fusionless correction of scoliosis. Changes in motion segment stiffness following staple insertion and measurement of staple loading during movement"
Name of meeting: Australian and New Zealand Orthopaedic Research Society
Venue: Brisbane, Queensland
Date: 16-21 November, 2008
State Meetings
"The effectiveness of a screening clinic for reducing outpatient waiting times for knee osteoarthritis"
Authors: Mark Shillington, Daniel Bopf, David Drynan, Michael McAuliffe
Name of meeting: Queensland Australian Orthopaedic (AOA) Meeting
Venue: Noosa, Queensland
Date: 6-8 June, 2009
"Correlation of radiographic severity with subjective pain in knee osteoarthritis"
Authors: Mark Shillington, Daniel Bopf, David Drynan, Michael McAuliffe
Name of meeting: Queensland Australian Orthopaedic (AOA) Meeting
Venue: Noosa, Queensland
Date: 6-8 June, 2009
"Knee osteoarthritis – use of conservative management and investigations"
Authors: Daniel Bopf, Mark Shillington, David Drynan, Michael McAuliffe
Name of meeting: Queensland Australian Orthopaedic (AOA) Meeting
Venue: Noosa, Queensland
Date: 6-8 June, 2009
"Patient knowledge of health care systems in relation to knee arthroplasty"
Authors: Mark Shillington, Daniel Bopf, David Drynan, Michael McAuliffe
Name of meeting: Queensland Australian Orthopaedic (AOA) Meeting
Venue: Noosa, Queensland
Date: 6-8 June, 2009
"Sequential single anaesthetic knee arthroplasty mortality – the Ipswich perspective"
Authors: Mark Shillington, Daniel Bopf, David Drynan, Michael McAuliffe
Name of meeting: Queensland Australian Orthopaedic (AOA) Meeting
Venue: Noosa, Queensland
Date: 6-8 June, 2009
"The Kent hip prosthesis: the clinical application of this unique femoral stem"
Authors: Mark Shillington, Simon Journeaux
Name of meeting: Queensland Australian Orthopaedic (AOA) Meeting
Venue: Noosa, Queensland
Date: 6-10 June, 2008
"The biomechanical effects of anterior vertebral stapling"
Authors: Mark Shillington, Clayton Adam, Robert Labrom, Geoffrey Askin
Name of meeting: Queensland Australian Orthopaedic (AOA) Meeting
Venue: Noosa, Queensland
Date: 6-10 June, 2008